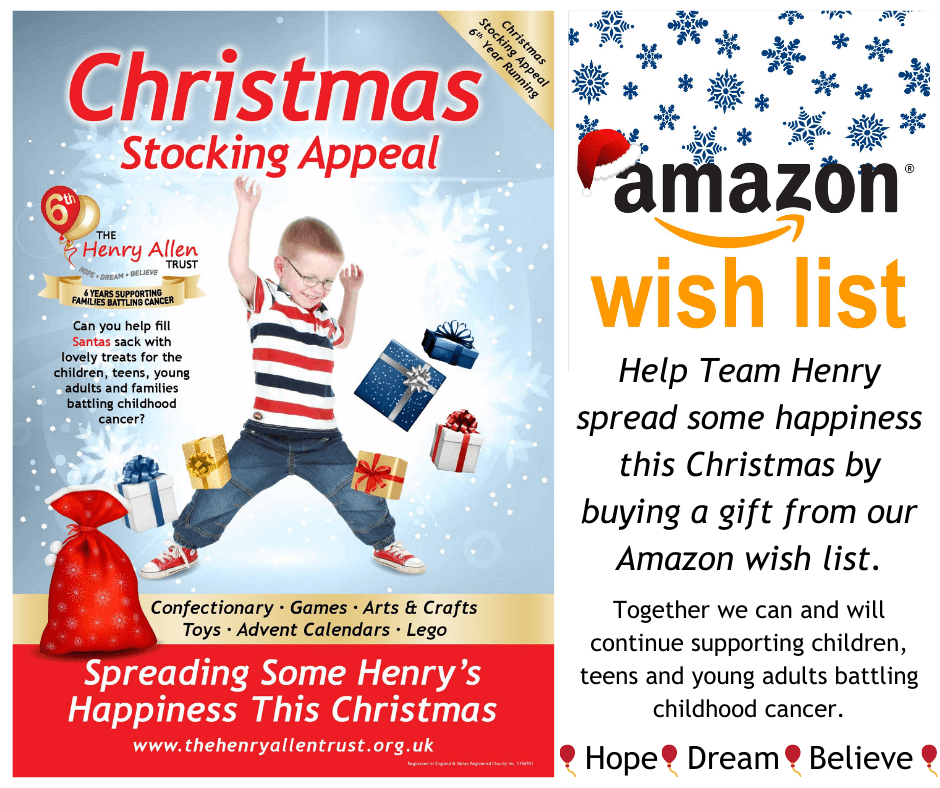 The Henry Allen Trust Christmas Stocking Appeal
🎅Henry's Christmas Stocking Appeal 2020 🎅
Can you help Team Henry fill Santas stocking with lovely treats for the Children and Families Battling Childhood Cancer this Christmas?
Help Team Henry spread some 'Henry's Happiness' this Christmas 🎄
Why not get your work place, school, sports club, friends and family involved? Every item donated really does make a real difference!
Our Christmas stocking appeal is now in it's 6th year this December and each year Team Henry are bowled over by the absolute sheer generosity and kindness of donators.
During the festive period, Team Henry, Santa and friends visit numerous children's wards, THAT Support (our monthly meet-up group) and homes spreading some seasonal joy and magical smiles to all family members including the amazing nurses, doctors and hospital staff. This also includes Christmas Day ❤️
I hear you asking what are we looking for? Please check out our poster and feel free to share 😉
Items such as selection boxes, confectionary, brand new games, toys, arts and crafts, PJ's, smellies, books and more…
Like many other organisations and charities, a second national lockdown has had a massive impact on how Team Henry do things, but that isn't going to stop us spreading Henry's Happiness this Christmas 😉
Unfortunately, a second lockdown means many of our donation locations will be closed for the next 4 weeks so Team Henry have been super busy this week compiling a new Amazon Wish List for our Christmas Stocking Appeal 🎁
We would be so grateful if you could visit our Amazon Wish list and make purchase a gift for one of the amazing young people we support 🎗
Follow the link below to our Amazon Wish List 👇
https://www.amazon.co.uk/hz/wishlist/ls/2S30UEDJ9T792?ref_=wl_share
Let's do this! Let's make Henry's last wish come true again this Christmas 2020 and spread some smiles and magical memories 💫
I guess you may be asking why? Why Team Henry do this! Well… One of Henry's last wishes was to have Christmas Day and on Henry's last Christmas Day back in October 2013, Henry was given lots of wonderful gifts and Mark and I said how lucky Henry was and he asked us to give these to his friends as he wouldn't be able to play with them…
Heartbreakingly, this was very true 💔
Henry later on made Mark and I 'pinky promise' to help the other children and so The Henry Allen Trust was formed as Henry's last wish and little mans legacy ❤️🎗❤️ this was one of the last things Henry said 😞
Hope, dream, believe that anything is possible xxx
If you would like to support us by a donation, please visit www.thehenryallentrust.org.uk